Laser Fractionation Therapy Treatment
A part of the skin is targeted at a time by a device that delivers a laser beam divided into thousands of minuscule treatment zones, like how a photograph is improved or changed pixel by pixel. Fractional laser treatment is non-invasive.
The difference between ablative and non-ablative laser treatments used to treat sun-damaged and aging skin has been filled by fractional laser therapy. Fractional laser treatments target both the epidermal and dermal layers of the skin, as opposed to ablative laser procedures, which focus primarily on the epidermis (surface skin cells), and non-ablative procedures, which target dermal collagen (mid-layer of skin).
The Fraxel® device [Reliant Technologies now Solta], which generates a non-ablative 1550-nm wavelength, was the first fractional laser to be commercially available. There are now some devices on the market that employ fractional technology, utilizing CO2 lasers for more intense ablative treatments and erbium:YAG lasers for superficial treatments (eg Fraxel Repair [Solta Medical], Active and Deep FX [Lumenis], Quadralase [Candela] and Pearl Fractional [Cutera]).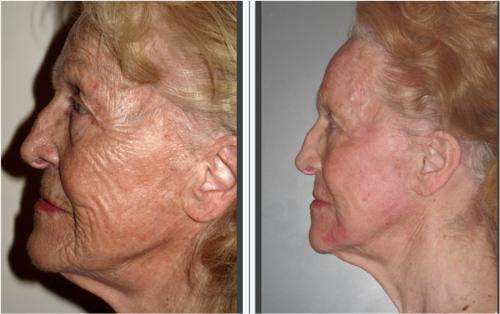 What conditions are treated using fractional laser therapy?
The following conditions are treated with fractional laser therapy:
wrinkles and lines on the face (rhytides)

sun fading

Skin pigmentation linked to 

surgical scarring from acne and photoaging.
Even though postinflammatory pigmentation can result from fractional laser treatment, it has been recommended for the treatment of pigmentation diseases including melasma.
When compared to conventional ablative modalities, fractional laser treatment is most effective on the neck, chest, and hands. However, it can be utilized on any area of the body.
Stretch marks and poikiloderma of Civatte may also benefit from fractional laser therapy.
All skin types and patients can benefit from fractional laser treatment, however the methods employed depend on the patient's age, skin type, level of sun exposure, and body region. Surgery and other skin procedures can be coupled with fractional laser treatment.
What is the process of fractional laser therapy?
A fundamental grasp of skin anatomy is necessary to comprehend how fractional laser treatment functions. Skin is made up of three layers: the epidermis (top layer), dermis (middle layer), and subcutis (lower fat layer). Melanocytes, pigment-producing cells found in the epidermis, are what give skin its colour. Collagen and elastin fibres found in the dermis give skin its pliability, suppleness, and durability.
The skin's features and appearance change as the body matures. The epidermis thins, making blemishes more noticeable, and the dermis gradually loses collagen, which leads to the development of facial lines, drooping skin, and wrinkles.
Targeting both the epidermis and dermis, fractional laser treatment produces results. 
It accomplishes this by implanting thousands of minutes but deeply penetrating columns of laser treatment into the skin. Microthermal treatment zones are these (MTZs). Old epidermal pigmented cells are evacuated within each MTZ, and the penetration of collagen into the dermis results in a response that induces collagen to restructure and produce new collagen. By utilizing MTZs, the laser treats the afflicted area intensely while sparing the good tissue around it, promoting wound healing. Compared to if all the tissue in the treatment region had been exposed to the laser, this fractional treatment has a quicker healing effect.
What happens during a fractional laser treatment?
An overview of the Fraxel® technique is provided below:
Pre-treatment evaluation and planning
Define the areas that are problematic and create a

fractional laser treatment

plan that is specific to those regions.

Take before-treatment pictures.
For patients with darker skin or pigmentation issues, a chemical peel or bleaching cream (such as hydroquinone) pre-treatment may be required.

Think about using aciclovir or valaciclovir as preventative measures for herpes simplex infections (cold sores)

The patient must take off all jewelry and cosmetics. Prior to treatment, wash your face with soap and water.

The treatment region is covered with an anesthetic cream. The anesthetic takes full action between 45 and 60 minutes.

After removing the anesthetic cream, a gliding gel is given to the treatment region to aid the laser in forming an even MTZ spot pattern.
The use of fractional lasers
The robotic handpiece uses the gliding gel as a contact lubricant as it moves across the skin.

A full face will require about 30 minutes of

fractional treatment

time, depending on the parts being treated.

The amount of energy that is sent to the treatment spot determines how painful the process will be. Use of the potent anesthetic cream included with the Fraxel laser is crucial.

During the operation, a Zimmer

TM

machine is used as a cooling device to lessen discomfort.
           Rehabilitation and aftercare
After the procedure, the gliding gel is removed with water.

An hour or so after the operation, patients could feel a little sunburned.

Swelling is often not severe and should go away in 2–3 days.

For three to five days, the skin will be reddish in color.

The development of new epidermal skin takes place within 24 hours, and the skin turns bronze for 3–14 days.

After ablative therapy, skin peeling may become noticeable; during this time, the skin should be carefully removed once or twice a day using gauze, petrolatum, and tap water.

It is advised to use a moisturizing sunscreen with an SPF of at least 50+ to protect the treated region during the healing process and for several months after treatment. To protect the skin from the sun, wear protective apparel and wide-brimmed hats.
     Depending on the energy level employed and the state of the treated skin, Fraxel® requires four to five treatments. These are separated by a month. The effects take time to manifest and are gradual, with the best outcomes becoming apparent after three to four months. 
This period and fractional treatment plan enables total tissue repair, the synthesis of fresh collagen and elastin to replace damaged tissue, and the development of live, healthy skin cells.
Recovery takes a little longer with ablative fractional resurfacing lasers since they are more harsh than non-ablative ones.
What risks and adverse effects might a fractional laser treatment cause?
Most patients appear to tolerate fractional laser treatment well. Shortly after treatment, you can shave or apply mineral makeup. Depending on their skin condition and the course of treatment, patients can typically return to work right after or the next day.
Following severe or ablative fractional laser treatments, particularly on the skin of the neck, there are several potential side effects and complications that could develop.
Desquamation (scaling, peeling) in excess and some crusting

After treatment, there may be swelling that lasts for up to a week. To reduce this swelling, apply an ice pack for 10 minutes at a time during the first 24 hours.

Patients having a history of melasma or postinflammatory hyperpigmentation are more likely to develop postinflammatory pigmentation (more common in patients of darker skin types)

Herpes simplex, bacterial infections, candida infections, and acne-like outbreaks.
How Can I Get in Touch with the Best Skin Surgeons in My Area at Cosmetique Skin Care Clinic? (Skin Specialist Treatment in Lahore).
To schedule an appointment at the top diagnostic or dermatological facility in Lahore. Call the Cosmetique service at 03-111-077-111 as soon as you can. Alternatively, you can click here to go to the official website of our skin care center: http://www.cosmetique.com.pk/.
Typically, you may consult the best dermatologists in my area online or in person. The initial consultation is typically complimentary, which is the nicest part.
1.Our best skin doctors in Pakistan listen to your needs throughout the appointment and ask you a few questions.
Based on your demands, they then recommend a suitable

skin treatment technique

.

When it's most convenient for you, you can then schedule an appointment for any further treatment.
You may rest assured that our dermatologists will be there for you when you need them.