Experience the Best Laser Hair Removal in Lahore | Cosmetique clinic
Cosmetique Clinic offers the best laser hair removal in Lahore. Our state-of-the-art technology and skilled doctors ensure that you receive the most effective and comfortable treatment possible. We understand the importance of smooth, hair-free skin, and that's why we use only the latest and most advanced laser equipment according to the skin type, to achieve optimal results. Whether you're looking to remove hair from your face, legs, arms, intimate areas or any other area, we have the expertise and experience to help you achieve your desired look. With our top-notch service and affordable pricing, Cosmetique Clinic is the perfect choice for anyone seeking the best laser clinic in Lahore. 
What is Laser Hair Removal?
Various factors, including genetics, hormonal changes, and certain medical conditions, can cause unwanted hair. Hormonal imbalances, such as PCOS (polycystic ovary syndrome), can lead to excessive hair growth, also known as hirsutism. Certain medications, such as those used to treat seizures or high blood pressure, can cause unwanted hair. Additionally, certain health problems, such as thyroid disorders, can lead to an overproduction of hair. Genetics plays a role in hair growth patterns; some people may have a family history of excessive hair growth.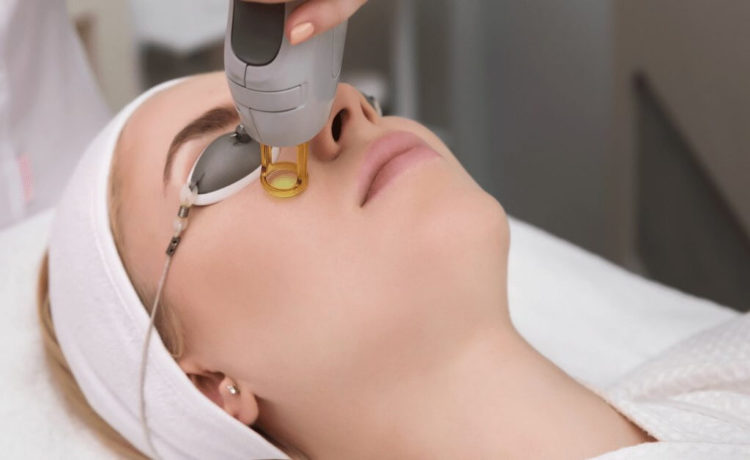 Laser hair removal is a non-surgical cosmetic procedure that uses laser energy to target and destroy hair follicles. The laser emits a beam of light absorbed by the melanin (pigment) in the hair, causing the hair follicle to get heated and be destroyed. This process stops or slows down hair growth in the treated area. Many clinics around the corner offer laser hair removal services without considering the skin type and condition of the patient. Cosmetique helps you experience the best laser hair removal in Lahore, Pakistan, at reasonable prices. Our professional dermatologists help you recognize the cause of excess hair growth and recommend the best procedure according to your condition. 
Available Laser Hair Removal Machines at the Cosmetique clinic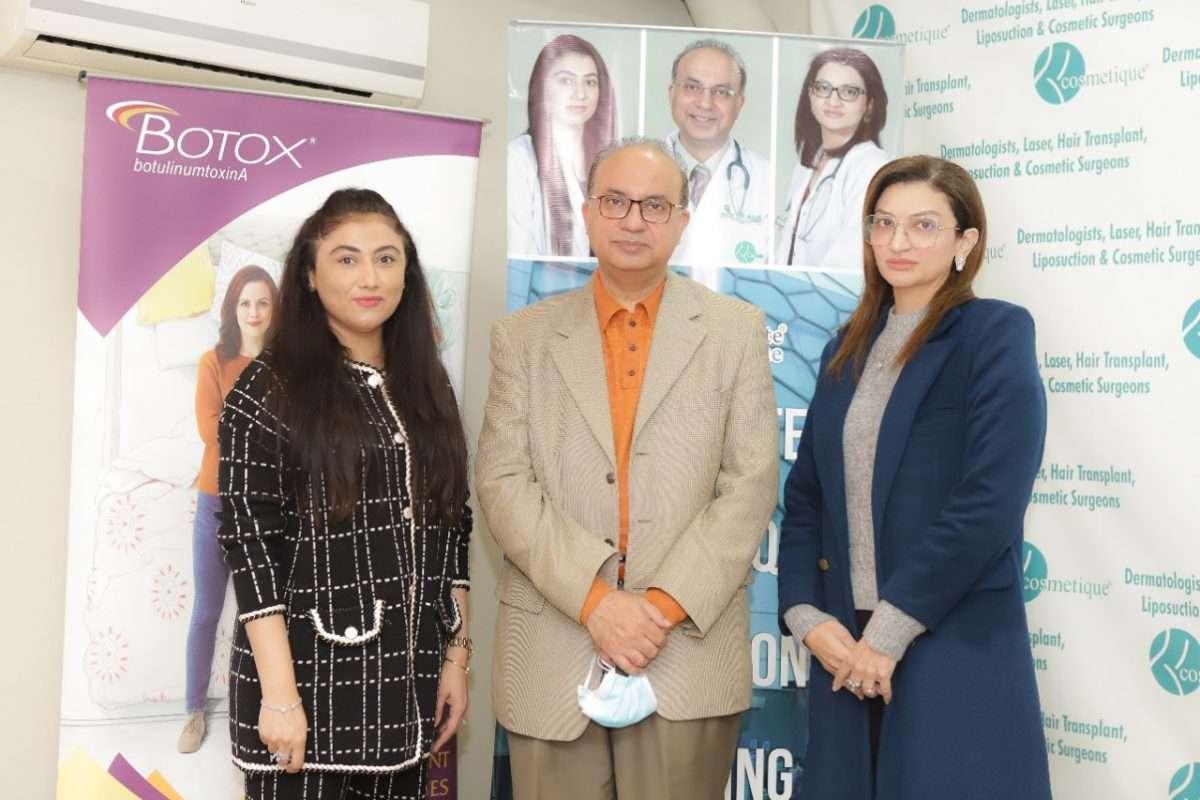 At COSMETIQUE clinic, we specialize in providing top-notch laser hair removal services. We understand that not everyone has the same skin type and complexion, which is why we offer a variety of laser machines to cater to different skin types. Including those with darker skin tones, ensuring that each patient receives a personalized treatment package tailored to their individual needs. Our clinic is well-equipped with the latest technology and staffed with experienced doctors, making us one of the best laser hair removal providers in Lahore. During the consultation, our experts will work with you to determine the best course of action to achieve optimal results with laser hair removal in Lahore. There are various types of laser hair removal machines, including:
This laser is safe for darker skin tones and effective on darker, coarser hair. It has a lower energy output than other laser types, making it more comfortable for the patient. It is the most effective laser in dark haired patients.
Intense pulsed light (IPL)
This type of technology uses broad-spectrum light to target hair follicles, it is not an actual laser, but it uses a similar technology. It is effective on all skin types and can treat a wide range of hair colors.
This laser is effective on all skin types. It is a popular choice for treating larger body areas, such as the legs and back. We also have Soprano ICE titanium laser with trio clustered diode technology
This laser is highly effective on people with lighter skin and dark hair. It has a high energy output and can cover large areas quickly. Also effective for peach fuzz / lighter hair
How does laser technology function to eliminate unwanted hair?
Laser hair removal machines use concentrated beams of light to target the melanin, or pigment, in hair follicles. The melanin converts and absorbs the laser energy to heat, damaging the hair follicle and preventing future growth. A trained doctor typically performs the treatment and may require multiple sessions to achieve desired results. Some common side effects of laser hair removal include redness, swelling, and temporary pain or discomfort. Our skillful team of doctors at Cosmetique clinic ensures that you will get the best laser hair removal treatment in Lahore and help you during each stage of the procedure. 
Why Consider Us for the Best Laser Hair Removal in Lahore?
Say goodbye to nicks, cuts, and painful hair removal methods- laser hair removal is here to save the day!
Laser hair removal is a prevailing cosmetic procedure that uses light to destroy hair follicles, resulting in long-term hair reduction. It's a quick and efficient alternative to traditional hair removal methods like shaving, tweezing, or waxing. Many find it less painful and time-consuming as it needs fewer touch-ups and maintenance. Moreover, it's one of the best ways to achieve permanent hair reduction.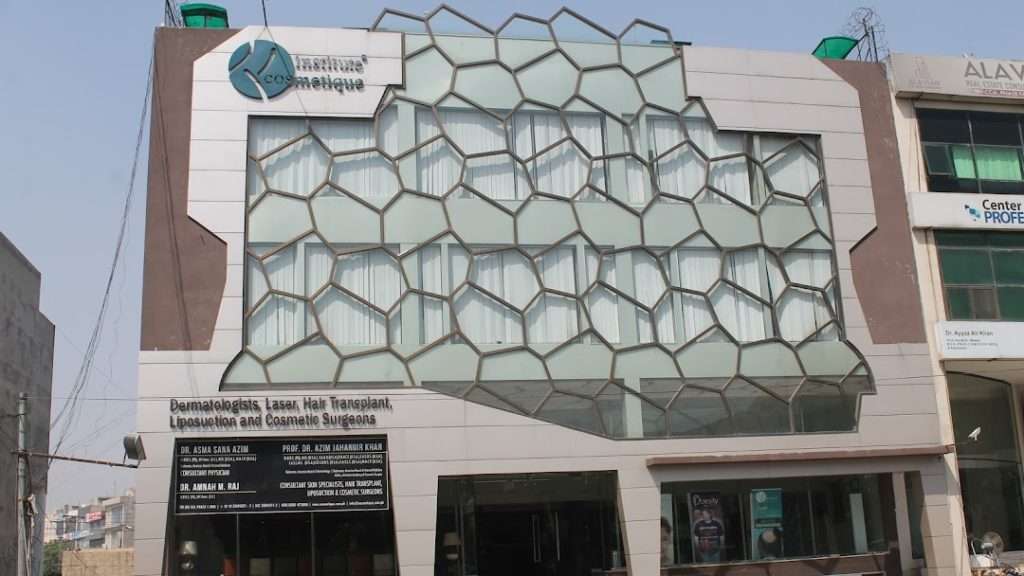 At COSMETIQUE, we have performed thousands of hair removal treatments in Lahore, and people from all around the world visit us for their aesthetic needs. We have the world's best lasers brought to Pakistan from the US. Cosmetique does not purchase Chinese machines with substandard results. At Cosmetique we only offer the best of the best laser treatment in DHA Branch Lahore.
Benefits of Laser Hair Removal
Laser hair removal offers several benefits, including:
Precision:

Lasers can target individual hair follicles, making them a practical option for removing unwanted hair from small, precise areas such as the face or bikini line.

Long-term results:

Laser hair removal can result in long-term hair reduction, with many people experiencing permanent hair loss after several sessions.

Speed:

The laser can treat multiple hairs at once, making it a quick and efficient option for large areas of unwanted hair, such as the legs or back.

Comfort:

Many people find laser hair removal less painful than other hair removals methods, such as waxing or threading. 

Cost-effective:

While the initial cost of laser hair removal may be higher than other methods, it can save money in the long run as it requires fewer touch-ups and maintenance. If you are looking for the

best laser hair removal cost in Lahore

, book your appointment with expert skin specialists at

Cosmetique clinic today by contacting us at our helpline at 

Call Now: 03-111-077-111

 or 

WhatsApp: +923117770915

.
What are the steps for preparing for, during, and after a laser hair removal procedure?
On the first consultation, our dermatologist will give you complete details of procedure after examining your hair type. Avoid plucking, waxing, or threading for at least six weeks before the procedure. Shave the area to be treated a day before the procedure. Inform the practitioner of any medications you are currently taking, including oral or topical antibiotics, as these may affect the procedure. Our dermatologists make sure to help you at each step so that you experience the best laser hair removal treatment at our Lahore clinic.
First the doctor will clean the area and apply a cooling gel to minimize discomfort along with icing of the area to minimize any discomfort during the laser treatment. This is the practice many unprofessional clinics do not use. 

The laser will be directed at the hair follicles, emitting a beam of light absorbed by the melanin in the hair.

The procedure may cause a sensation of heat or discomfort. However, most people find it easily tolerable especially our patients because we ensure a well iced body part before starting the laser.
Avoid sunlight and tanning for at least 4-6 weeks after the procedure.

Avoid plucking, waxing, or threading for at least 4-6 weeks after the procedure.

Apply an aloe vera gel or soothing lotion or the medication recommended by Cosmetique dermatologist after laser to alleviate any redness or discomfort.

Avoid strenuous workouts or sweating for at least 24 hours after the procedure.

Repeat sessions are usually required to achieve desired results.
Cost of Laser Hair Removal in Lahore
The laser hair removal cost in Lahore varies according to some facts such as the number of sessions, which doctor is performing the procedure, the size of the affected area, etc. However, at Cosmetique, we provide the best laser treatment for hair removal costs in Pakistan. Our sessions for laser hair removal treatment cost about Rs. 4000 on average. The doctor discusses the treatment plan, procedure cost, and other important guidelines during the consultation.
Can hair be removed on dark or tanned skin?
Laser hair removal can be done on dark or tanned skin, but it's important to use the right type of laser machine and settings to avoid complications such as burns or pigmentation changes. The best laser machine for your skin depends on your skin type, hair color, and thickness. Different laser machines are designed to target different hair and skin types. At Cosmetique our expert doctors ensure complete examination before suggesting any type of laser. Book your appointments with the best skin specialists in Lahore.
Frequently Asked Questions about Laser Treatment for Hair Removal
The diode laser is the most common and effective laser machine for facial hair removal. Additionally, depending on hair type we use lasers such as the Alexandrite laser and Nd: YAG laser, which are extremely effective for facial hair removal.
Some rarely occurring risks include pigment changes or irritation especially related to IPL. Common side effects include redness, swelling, or discomfort in the treated area. These side effects typically resolve within a few hours to a few days.
 Laser hair removal can be done on most areas of the body, including the face, arms, legs, underarms, bikini area, and back.